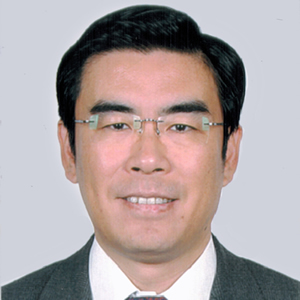 Wei Shaojun
Professor of Tsinghua University
Dr. Shaojun WEI is the professor of Tsinghua University and currently serves as the Dean of the Department of Micro- and Nano-Electronics and Director of the Institute of Microelectronics, Tsinghua University. He is also the adjunct professor of Peking University. Prof. WEI is the Vice President of the China Semiconductor Industry Association (CSIA), President of VLSI Design Chapter, CSIA. Prof. WEI is the President of Communication Specific IC Committee, China Institute of Communications (CIC) and the fellow of China Institute of Electronics (CIE). Prof. WEI is the chief scientist of State Key program of science and technology for integrated circuits.

Prof. WEI received Master degree in Engineering from the Department of Radio and Electronics, Tsinghua University, Beijing, China in 1984 and Doctor degree in Applied Science in 1991 from the Laboratory of Electronics, Faculté Polytechnique de Mons (FPMs), Belgium and then became the assistant professor in the same laboratory. From 1989 to1991, he also worked as a research fellow in ARAMIS, Belgium. Dr. WEI returned to China in 1995. From 1998 to 2005, he worked for Datang Telecom Technology Co., Ltd. successively as Vice-President, President & CEO. He was the founder, President & CEO and Chairman of the Board of Datang Microelectronics Technology Co., Ltd. from 1996 to 2005. He was the CTO of Datang Telecom Industry Group from 2005 to 2006.

The research interests of Dr. WEI are VLSI design methodology, communication specific IC development, mobile computing and reconfigurable computing. He has published more than 200 papers and one book in above area.

Dr. WEI has won many awards, including the National 2nd Prize for Advanced Technology in 2002; the National 2nd Prize for Technology Invention; the 1st Prize for Technology Invention, Ministry of Education in 2014; 1st Prize for Science and Technology, CIE in 2012; Beijing 1st Prize for Advanced Technology in 2001; the Award for Outstanding Chinese Patented Invention, State Intellectual Property Office of China & World Intellectual Property Organization in 2004; the Outstanding Leading Person in Semiconductor Industry, CSIA in 2003, etc.