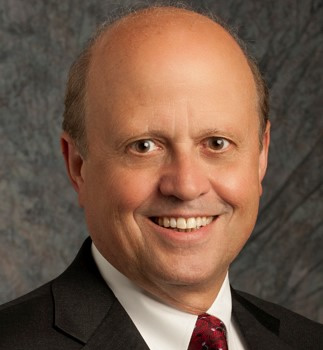 Walden C. Rhines
President & Chief Executive Officer, Mentor, a Siemens Business
WALDEN C. RHINES is President and Chief Executive Officer of Mentor, a Siemens Business. He was previously CEO of Mentor Graphics for 23 years and Chairman of the Board for 17 years. During his tenure at Mentor, revenue nearly quadrupled and market value of the company increased 10X.

Prior to joining Mentor Graphics, Dr. Rhines was Executive Vice President of Texas Instruments' Semiconductor Group. During his 21 years at TI, he was President of the Data Systems Group and held numerous other semiconductor executive management positions.

Dr. Rhines has served on the boards of Cirrus Logic, QORVO, TriQuint Semiconductor, Global Logic and as Chairman of the Electronic Design Automation Consortium (five two-year terms) and is currently a director. He is also a board member of the Semiconductor Research Corporation and First Growth Children & Family Charities. He is a Lifetime Fellow of the IEEE and has served on the Board of Trustees of Lewis and Clark College, the National Advisory Board of the University of Michigan and Industrial Committees advising Stanford University and the University of Florida.

Dr. Rhines holds a Bachelor of Science degree in engineering from the University of Michigan, a Master of Science and PhD in materials science and engineering from Stanford University, a master of Business Administration from Southern Methodist University and Honorary Doctor of Technology degrees from the University of Florida and Nottingham Trent University.

Topic: Semiconductor Consolidation versus Specialization

Abstract: Mega-mergers that have been announced in the semiconductor industry over the last two years have prompted many to predict that the semiconductor industry is consolidating down to a handful of companies, just the way consolidation has historically occurred in industries like steel, mining, and pharmaceuticals. Traditional industries are driven to consolidate at maturity so that they can continue to generate cash and increase profitability despite very slow revenue growth. The semiconductor industry is fundamentally different. Dr. Rhines will analyze some of the differences and present a projection that refutes many common beliefs about our industry. He will show that the semiconductor industry is specializing, rather than consolidating, and will highlight some of the differences from traditional industries, including the ongoing and future reduction of semiconductor unit costs.